happy swap reveal day!
sarah is super cute and she loves the LORD, so make sure you head over to her little corner and meet her for yourself!
she sent be a beautiful christmas ornament and a lovely card full of recipes and christmas traditions!
is that not the cutest snowman you've ever seen?
#lovingit
i am officially the worst swap partner ever.
my package is lost somewhere in between texas and canada...
i even sent it early.
#postofficeproblems #borderpatrol
luckily, sarah is a sweet and understanding person.
but still,,,,i am crushed it didn't make it!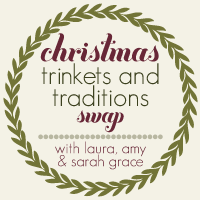 did you participate in the swap? be sure to link up below!
what was in your package?