before we were hitched, bub-hub and i were in a long distance relationship.
for our entire relationship.
so yes, needless to say,
there were a lot of reasons i was pumped about getting married,
but at the top of the list was getting to share everyday life with my best friend!
building up to the wedding day, there were so many things to be excited about,
but the only part that really mattered was the ceremony and our vows and of course our first smooch! :)

so finally, at 3:00 pm, it was ceremony time! :)

it was important to me to have our colors and theme flow throughout the entire day.
as soon as guest arrived,
they were greeted with photos and a slideshow.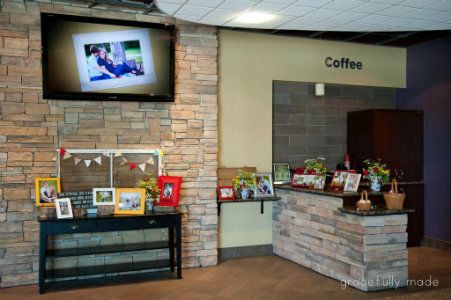 this was definitely a hands-on event.
my family and i spray painted dozens of frames and completed many a project to help make my vision of a red and yellow summer wedding become a reality.
i could not have done this without the help of my sweet family.
i made our guestbook using the
shutterfly
custom paths scrapbook maker. they do have pre-made forms you can use, but when it come to scrapbooking, i'm a bit of a perfectionist. i was able to customize it to match the theme of our wedding, fabulous!
one of my favorite pieces of our ceremony decor was the the arch.
my mom and dad found two porch posts at an antique store and with a fresh coat of paint, they were wedding ready!
my sweet cousin
lauren
loaned us the beautiful bunting she handmade and used for her wedding, so we were able to use that to create the arch between the poles.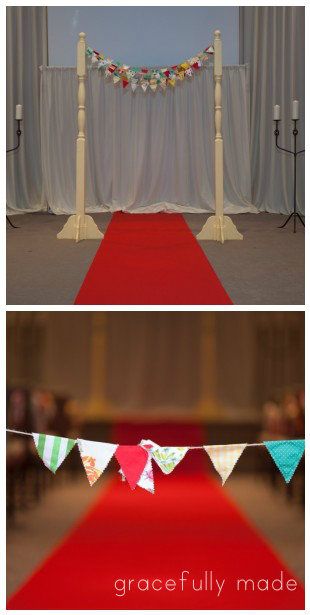 what?
you've never seen a red-carpet at a wedding before?
and no, i'm not trying to channel my inner celebrity,
and no, i wasn't making a tribute to 1970's baptist church decor.

the colors of our church are pretty neutral, and i was having trouble finding ways to incorporate our wedding colors, red and yellow, into the sanctuary, without adding 1000 more yards of bunting.
i knew we needed something special to perk the place up, especially once we added the white fabric draping, and the red carpet was the perfect fit.
it warmed up the room so much,
and i think it provided the perfect pop of color to help us complete the perfect backdrop for our ceremony.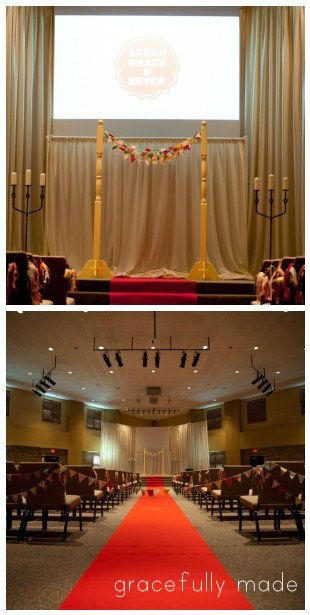 before the doors opened,
my dad and i had a little pow-wow.
we decided that we were going to take 20 minutes to walk down the aisle,
just because we could.
don't worry, we didn't take 20 minutes, it felt more like 5 seconds.
slow walking champs.
i love that this photo shows the appliqued lace on the skirt of my dress.


when the pastor started our vows,
bryce made it through his like a champ,
easy peasy.
and then it was my turn.
i think somewhere around the line,
"for richer or poorer..."
i burst into a giggling-fit,
like i was basically doubled over.
not because i didn't respect the vows,
and not because i thought pastor barkef was telling a funny joke...
i was just so overwhelmed with excitement and happiness that we were FINALLY reciting our vows, and we were FINALLY going to be married.
everything we had been waiting for was finally happening.
i couldn't hold back any longer,
and i giggled through the rest of the vows.
i always laugh at inappropriate times,
so it was fitting that i would burt into laughter during the most serious part of our wedding day.
sorry i'm not sorry. :)


apparently i got a little crazy with the smooch.
when bryce and i were first looking through the photos,
he told me that he thought i was going to lift him up off the ground i was pulling him so tightly.
my bad.....
did i mention how excited i was to finally be marrying him??

we did it!!! :)
thanks to my mama for making this beautiful veil to help cover my red & puffy eyes! :)
she made it using lace from her wedding dress and my dress.
veils are one tough project folks, especially when i'm your customer.
such a meaningful labor of love.


bryce and his sweet sister,
and then hugs from sweet friends.
it was so fun getting to celebrate our first minutes as husband and wife with the people we love most.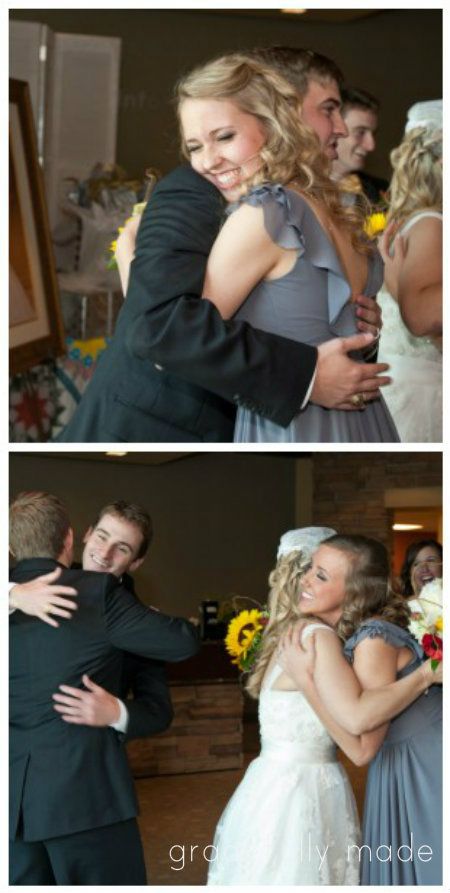 blooper reel! :)
the bottom left corner is probably my favorite-least-flattering photo of all time.
when the photographer is stalking you like a hawk,
you're bound to be caught in some unflattering angles.
part 1: getting ready
part 2: first looks
all photos were taken by Jana at
bella bee photography
.
the wedding was coordinated by Rhonda at
precisely as planned
.