believe it or not, christmas is just around the corner!
don't worry, i haven't forgotten about thanksgiving,
but right after that comes december and before we know it, all of the holiday traditions and festivities will quickly ensue!
bub-hub and i have a lot in common when it comes to christmas traditions, but we also have a few unique differences that i have loved hearing about and can't wait to experience. i love learning and sharing traditions with friends and my new family!
afterall, aren't family traditions what makes the holidays so special?
to celebrate these traditions, i've joined forces with my sweet friends Amy and Laura to put together the
"christmas trinkets and traditions swap"!
this is a great chance to share a unique christmas tradition with someone else! it can be anything that you feel represents one of your favorite family traditions. maybe it's a christmas cookie recipie your family has made for years, or a christmas ornament, or a favorite holiday movie or cd.
whatever is special to you is perfect for this swap, so sign up for the chance to learn about another family's traditions!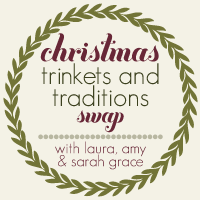 send laura an email at emaillaurawick[at]gmail.com with your name, blog name, and mailing address, and let her know you want to sign up!
sign ups run through friday, november 16!
head over to laura's blog for more information!
amy, laura and i are so pumped to put this together for you guys and i hope you'll participate!